If like me you're always on the look out for something watch that is not only interesting and fun but fully aesthetically pleasing, then the two films on my radar this month might just appeal to you too!
From 1950's small town Ireland to New York City, all the way though to a Guy Richie filtered 1960's Europe, it has a bit of something for everyone. Including Henry Cavill, who is a bit of something for everyone, right?
Starring the always amazing
Saoirse Ronan
,
Brooklyn
sees a small town Irish girl leave it all behind in search of a better life outside of small town Ireland - a common enough tale but one done with such class it's hard to ignore this one. We're taken on Eilis Lacey's ( pronounced Ay-lish, by the by) journey - from her pain and fear at leaving behind the only life she's known in a small town, leaving behind her
Irish Mammy
(they are special kind of mother, any Irish person will tell you!) and her only sister, to her first sail on a boat woes (don't eat the stew!), all the way to her first steps through the brownstone lined streets of beautiful 1950's
Brooklyn
.
We see her tackle homesickness, a boarding house (run by Mrs Kehoe the one and only Julie Walters, she's hilarious as their keeper in morality as well as housing) and American retail! The setting of this film has an air of nostalgic romantic, even in the way it is lit right though to the colour scheme of the clothing worn throughout.
We are meant to fall in love with these people as Eilis does, we're meant to fall in love with this place as she does, so that when it comes time to make the decision - as the film's tag line asks us to do with the rather interesting concept of home.
"Home is Home"
one of her leading men remind her, and it's a story of finding out just what that is, what is home? Or in some cases,
who?
She must choose between her charming and adorable Brooklyn beau in the form of
Emory Cohen
who makes her homesickness for Ireland fade little my little, though it may be his little brother who steals the show with some of the best lines! Or when she crosses the pond, and meets the very understated and shy but well to do (and thus in small town Ireland a 'real catch for someone' as her Mam reminds her) Jim Farrell played by
Domhnall Gleeson
.
She has a tough time of it does our Eilis, but she portrays a strong willed, smart woman in a time where that was particularly frown upon in certain places (cough, small town Ireland for example,) while she struggles to be sensible and stay behind and do her duty as a daughter, she also realises she has a duty to herself first, and that's what makes it such a fun watch. Seeing her evolve within the story, both as she gains more self awareness, her whole self changes too, from her hair and makeup, her clothing, to her bravery and self-confidence. And she does in the end, find her home, in a place, with a person, within herself, and it's done beautifully. A fantastic supporting cast made up of greats like Jim Broadbent, Fiona Glascott and the utterly hilarious Jenn Murray only serve to raise this already great film to a different level! Plus, you can take your mum, trust me, she'll love it too!
Brooklyn retailing - even in the 50's it was a far throw from Enniscorthy!
Boarding House dinners - no secret is safe! Nor a hairpin, apparently.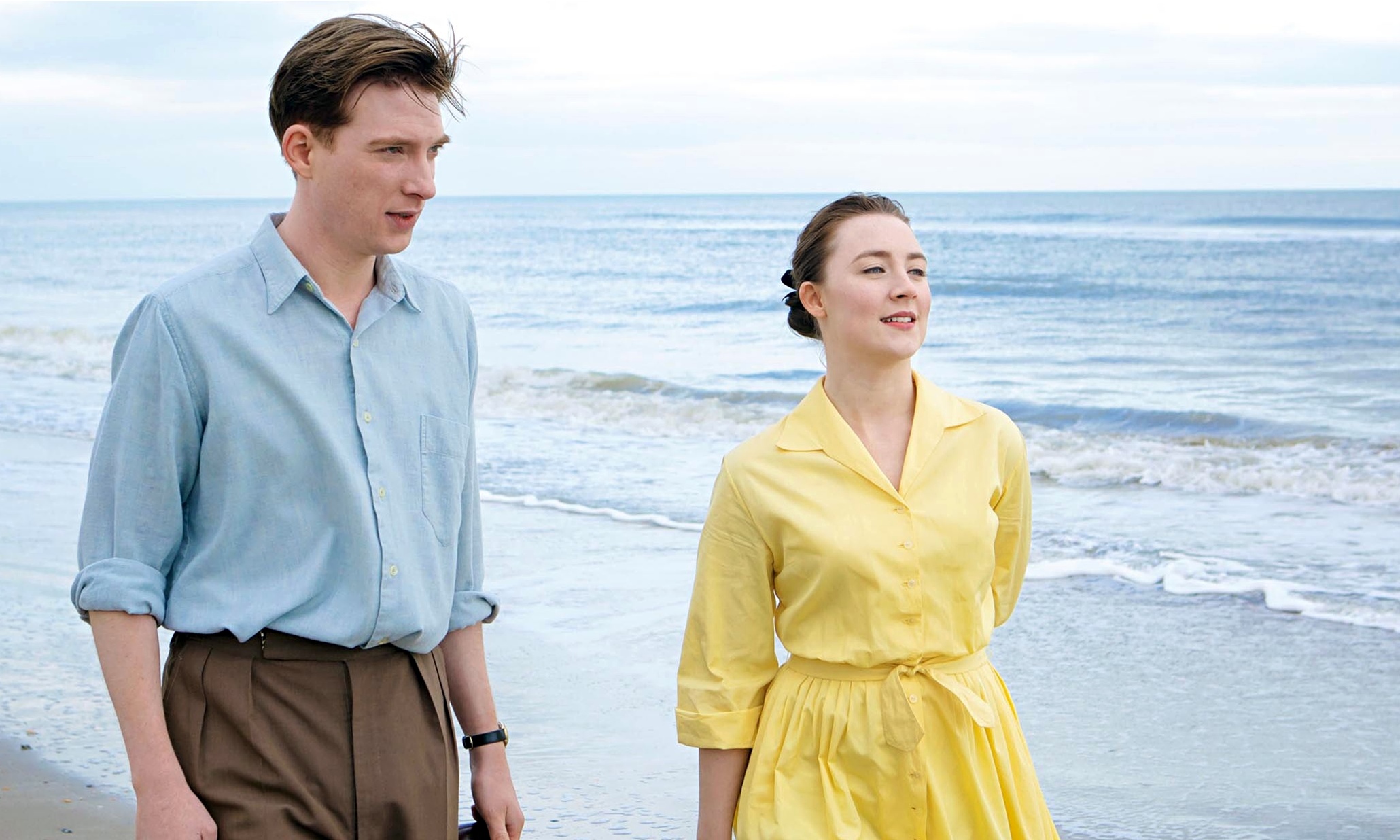 Irish boys who wear suits to the beach. Ah the 50's
Coney Island. calls for specs appeal!
Brooklyn is in select cinemas now!
*****
Next up and in an entirely different lane, but as equally as stylistically pleasing, we have the Guy Richie co-written and directed - The Man from UNCLE. A sleek and sharp spy drama-dy with an unlikely trio thrown together in post WWII - mid-Cold War Europe starring
Henry Cavill
(Your Tudors Bae, and also Superman, everyone knows him, right?),
Alicia Vikander
(Style crush since 2011, LOVE her) and
Armie Hammer
(the very tall, very handsome blonde one -
or
that guy from the Facebook movie that played twins, however you know him). If you've ever wanted to see a film where a five foot woman basically rugby tackles a six foot five man to the ground and
wins
, this is the film for you!
A CIA agent, a KGB agent and a Chop Shop girl are teamed together to stop the Nazis, as you do. Cavill's Agent Solo is the smooth talking, tailored suit wearing charmer to the KGB Soviet machine (though he proves he is in fact just a very large, very misunderstood fluffy sweetheart who can kill you, of course,) that is Illya Kuryakin on opposite sides of the pond and the political struggle, they are teamed together because of a Gaby Teller (played by Vikander) the daughter of a missing German scientist who may just be helping the Nazis build a great big bomb. Since no one wants anything exploding, the KGB and the CIA team up - though the two men aren't exactly thrilled about that prospect - nor is Gaby for she is to be brilliantly (and as trope-y as it is, I love it) 'fake engaged' to the giant Russian who had just hours before, chased her and Agent Solo through the streets of Berlin.
But oh they do it so well!
This film has it all in terms of style - from the sets to the cities showcased, and in particular (for me anyway) in the amazing costumes Gaby Teller in particular gets to wear - the sixties vibe of strong and confident sex appeal there in spades, but allowing her to be functional as well as beautiful. This film provides serious inspiration for those of us in love with the sixties aesthetic but looking to modernise it slightly. From the sleeveless, bold printed dresses teamed with big hats and bigger shades, the chunky earrings and the can-kick-your-arse look on her face we know she's there to do a job and we're aware of that, as she is, which means thankfully not running around in too-high-heels like an idiot in order to project the look. This also leads to a running visual joke of the incredible height difference between Gaby and her apparent fiancé, which in turn also leads to a would-be romance that is handled so sweetly it makes you yearn for a sequel, just to see if the unlikely pair actually ever DO get any further than this film allowed.
It's what James Bond would be if he had a sense of humour!
One of my favourite scenes brilliantly done by the fake betrothed. Don't turn this girl down when she asks you to dance!
Fantastic villains, hilarious innuendo, and a testing team building mission done so smoothly are left wanting more from these three misfits. I do hope there is a sequel, but it looks unlikely, sadly. A mistake I think in marketing it alongside films like Straight outta Compton meant that many, including myself, missed this little gem the first time around and only managed to catch it due to word of mouth (thanks, tumblr!) and the digital / DVD release.
So, if like me, you missed out, do yourself a favor and give this a go. It's what James Bond would be if he had a sense of humour!
xo