Very Cranberry - Essie!
Cranberry Goodness!
More than just a sauce for that Thanksgiving or Christmas turkey, the shade of the 2014/15 winter season is one that I personally can't get enough of! Crowding the catwalks at Paris and Milan Fashion Week, we can see that it's not a trend we're going to escape easily. Personally, I love autumn /winter more so than spring/summer because I get to embrace my two fashion loves – dark colours and scarves without judgement! (But really, I live in Ireland I could rock the dark all year around and it would be fine, it rains every other day anyway!) This year I'm all about the plums, cranberries and uber rich jewel tones!
From scarves and coats to jumpsuits, nails and skirts it's clear I'm not the only one loving this trend!
Over sized scarf from ACNE
If you're too shy to go full on with your clothes then the safer bet lies within your accessories and makeup choices.Whether it's a deep royal purple eye, a flashy emerald green, or bold ruby lips, the options to be bold in winter is always there. The days are darker, so shall be our lips! Right? Eh, well, maybe.
For an everyday look, depending on your workplace, the bold makeup looks above might not be the best of ideas – I mean unless funny looks and 'ooh that one… where does she think she's at!' conversations are your thing, in that case, fire away! But, on the off chance that it's a tad more conservative, the accessory option is always a good one.
Keeping it simple like Scarlett J here, is an acceptable middle ground.
For a bolder lip look - keep the eyes and cheeks fresh but focus on a dark berry or plum shade - Mac Lush Life is just one perfect example!
Strong eyes but barely there lips and cheeks can work easily without becoming too-much and overpowering your face.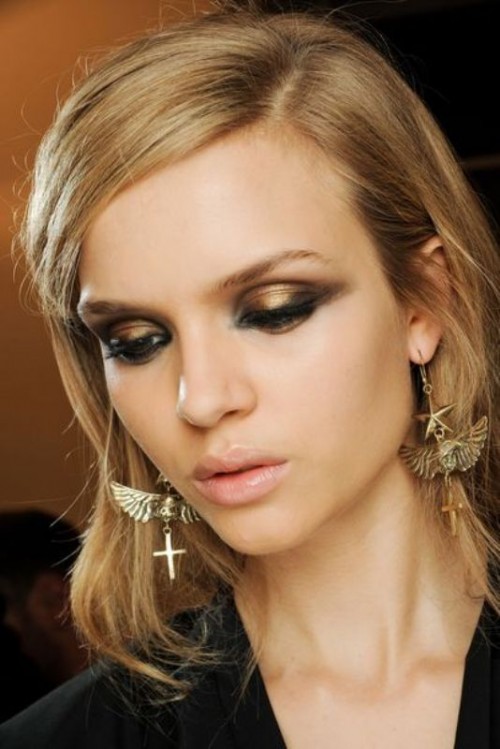 Pack on the gold shimmer on top of a black matt base for this sultry glam look!
You can keep the face neutral all for one area, lips or eyes. In Scarlett's case she's chosen a pretty mauve shadow, with a barely there cheek and pinky fresh lip. Compared with the model to the left, choosing a packed on gold shimmer against a black matted down look with a nude pink lip to pair things down making the eyes the focus of the look. The options and looks are endless, and isn't that just how we like it?
Till next time,
Laura
xo